¢º General
Relate to SOLAS regulation XII/12, the Water ingress detection system should be installed to the all of Bulk Carrier regardless of their date of construction not later than the date of the annual, intermediate or renewal survey, whichever comes first, to be carried out after 1st July 2004.

The system is for the early detection of any leakage into all cargo holds, ballast tanks forward of the collision bulkhead(ex. F.P.T) and dry spaces
(ex. bosun store) which extends forward of the foremost cargo hold.
¢º Position of Detection
1) Cargo Holds
Pre-alarm : at height of 0.5m from the inner bottom

Main-alarm : at height not less than 15% of depth, but not more than 2.0m
2) Ballast Tank(F.P.T)
3) Dry or Void space
¢º Description
We supply two kinds of model(system) as customer's requirement:
WID-3000F(Magnet Operated float switch type)

WID-3000E(Conductive electrode switch type)
The systems is consisted of Water detector, I.S barrier box for intrinsically safety and Main alarm panel for visual & audible alarm, etc. Each components were designed and approved specially for marine circumstance's endurance and convenient operation. Especially, it have the Override function for interception of alarm when the hold or any space is intended to loading ballast water. Moreover, it have the Malfunction monitoring function for power failure, line break & short circuit.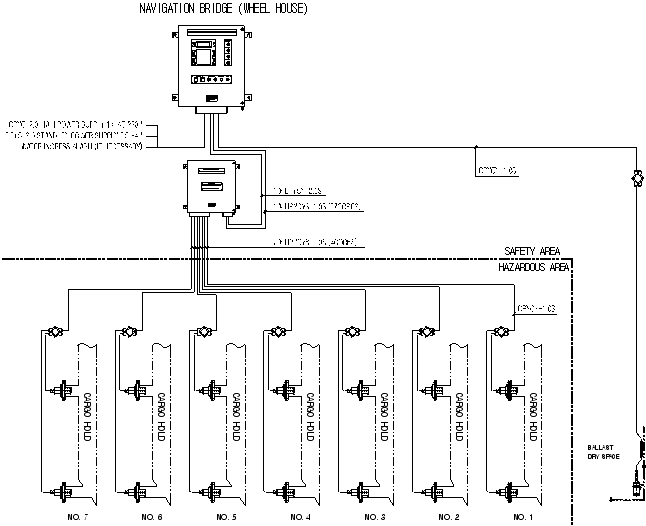 ¢º Water Detector(level switch)
If the float is gone up to chamber-top by inflow of water, then the magnet which located at topside of float will operate the "Reed Switch" and the signal will be transmitted to main alarm panel through I.S. barrier box. The detector was designed specially for prevent of abnormal operation by any kinds of cargo.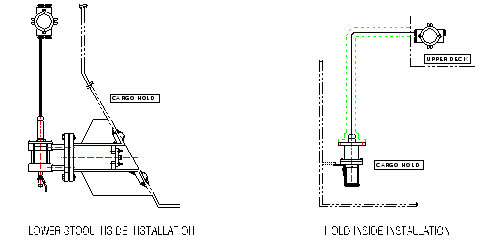 TMS-100SF TMS-100TF
When two electrodes are touched by any electrically conductive liquid(sea water), the low value A.C circuit which impressed on two electrodes will be flowed between two electrodes. Then it will be converted to the contact-signal through I.S relay and the signal will be transmitted to main alarm panel.
¡¡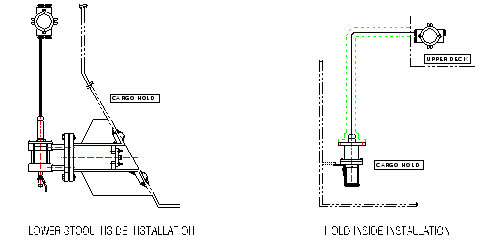 ¡Ø Easy to installation and no needed any protection and filtration arrangements for all kinds of cargo.

¡Ø Easy to dismantle and reassemble of float for clean and no needed any knowhow for detector.

¡Ø Appling for a patent.

Patent application no: 10-2003-0074007

Utility application no: 20-2003-0033158
¢º Main Alarm Panel
Power supply

Main AC110V/220V, Stan-by DC24V

Alarm unit

M3000

24points input(Max. 11holds)

Power DC24V

Malfunction alarm

AC power fail

DC power fail

Line fail

Alarm override

By push button and indicated by lamp

Override re-instatement

Automatically on de-ballasting of cargo holds/WBT

Buzzer

1No. Pre alarm and Malfunction alarm

1NO. Main alarm

Time delay

Pre alarm-3sec, Main alarm-1sec

External output

1No. Pre and Main common alarm(NC contact)

1No. Malfunction common alarm(NC contact)

1No. Pre and Main common alarm(with DC 24V)

1No. RS 485 signal

Buzzer & Lamp test

Manually by push button

Dimmer

Manually by dial